Adventurers know better than anyone that the Great Outdoors is our original playground, and that makes it a perfect canvas for family outings, like hiking. With a baby carrier, you can navigate uneven terrain and go farther than your little one's legs might allow. Backpacks with metal frames—like the one you might have sat in as a kid—are still the best choice, but today's models come packed with extras to please you and your passenger. The right one for you should feel comfortable and have at least enough storage space to haul a few diapers, a change of clothes, and maybe a toy or two.
—TOP RATED—
Deuter Kid Comfort
Weight: 7 lb. 1 oz. | Gear Capacity: 14 L | Consumer Score: 99% give it 4 stars or higher
COURTESYDeuter Kid ComfortDEUTERmoosejaw.com$290.00
Comfortable
Good ventilation
Side entry
The Kid Comfort earns top marks from almost every customer and expert reviewer. That's on account of its full feature set, quality construction, and comfort-focused design. Deuter packs in all the usual amenities, including a plush nap-inducing pillow, slightly small sunshade, and a hydration sleeve that can hold a 3-liter reservoir. The company also makes a rain cover, though that's sold separately. The carrier has enough storage for day hiking, with large compartments on the front and below the seat. Pockets on the hip belt and at the side give you and your passenger quick access to snacks and other necessities. Side entry into the cockpit allows for easier loading and unloading, and between the height-adjustable seat and secure harness, youngsters of a variety of ages will ride safely. Parents and reviewers find this carrier exceptionally comfortable. The torso has a sliding adjustment system for quickly dialing in fit, and ample padding on the shoulder straps and hip belt cushions against heavy loads. What's more, the back panel includes a partial trampoline design to keep you cool. Wirecutter writes: "In the heat of a record-breaking Texas summer, all of our sweaty testers marked the Kid Comfort as among the best for maintaining that small but critical amount of airflow." All that makes this pack a welcome companion for long mornings or afternoons on the trail.
—BEST VALUE—
LuvdBaby Premium
Weight: 6 lb. 6.4 oz. | Gear Capacity: N/A | Consumer Score: 81% give it 4 stars or higher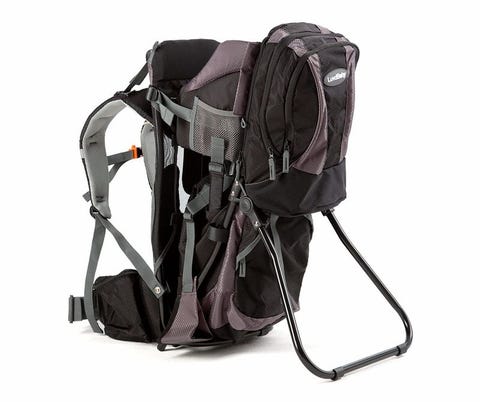 LuvdBaby PremiumLUVDBABYamazon.com
All the features of a premium pack at a great price
Low weight limit
Not as comfortable as other models
So often, choosing budget-friendly gear means doing without fancier features or sacrificing durability. That's not the case with this pack from Luvdbaby. The Irish company even includes a changing pad for the inevitable mid-hike pit stop and adds insulation to the front pocket (one of six total) for bottle storage. You'll also find a sunshade, stirrups, and— for your benefit—an adjustable torso. One 5-foot-5 customer reported the pack fits both her and her husband, who is 5 inches taller. Still, there are trade-offs. The maximum weight limit is 40 pounds including all your gear, which is the lowest on this list. Also, the padding on the straps and hip belt is less robust than the competition, so you're going to feel more strain, especially with a larger child in tow. These drawbacks, while not insignificant, could be worth the 100-plus bucks you'll save compared to top-of-the-line carriers.
—TWO PACKS IN ONE—
Thule Sapling Elite
Weight: 7 lb. 14.4 oz. | Gear Capacity: 20 L | Consumer Score: 84% give it 4 stars or higher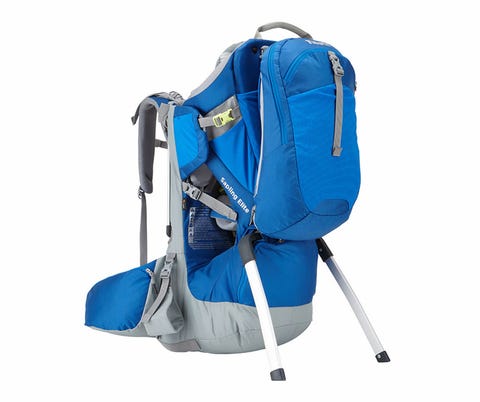 COURTESY THULESapling Elite
Thule
$349.95
Thule's Sapling Elite separates itself from the pack with its two-in-one design, making its hefty price tag more palatable. The deluxe carrier, which has six pockets already, comes with a removable daypack that increases the total storage capacity to 20 liters. For shorter outings when you don't need the space (or extra weight), simply unclip the pack. You'll find more than just a gear hauler in the Elite, though. It has a sunshade, stirrups, a spot for your hydration reservoir, and a small hand mirror so you can keep an eye on your kiddo. Families living in rainy climates might also decide to invest in the compatible rain cover. Like the Kid Comfort, this carrier offers top and side entry into the cockpit, and the seat adjusts to your child's height. There's lots of customization for your comfort, too. The hip-belt padding can extend out for larger waists, and the sliding torso-adjustment system has a 6-inch range. The mostly mesh back panel joins mesh sections in the cockpit, so you and your little one stay cooler. All these features might be overkill, especially if you already have a daypack, but they make the Elite a fine choice for day hiking and backpacking expeditions.
—WOMEN'S FIT—
Deuter Kid Comfort Active SL
Weight: 5 lb. 8 oz. | Gear Capacity: 12 L | Consumer Score: 94% give it 4 stars or higher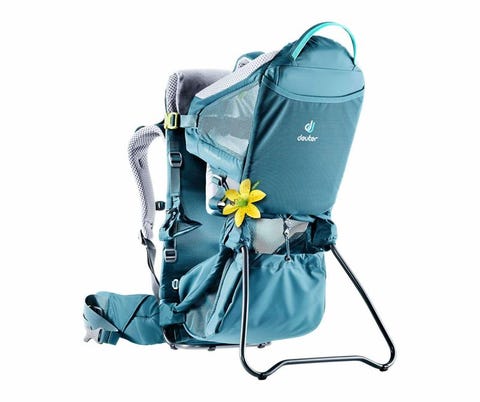 Deuter Kid Comfort Active SLDEUTERbackcountry.com$192.00
Lightweight
Women's-specific design
Sunshade not included
Can't access water while moving
Deuter designed its Active line of carriers for light and fast hikers and the SL specifically for women. To accommodate smaller frames, the torso length adjusts from 14 to 18 inches, compared to the unisex model that fits torsos 15 to 20 inches. Additionally, the shoulder straps are placed closer together and, along with the hip belt, are anatomically shaped to better fit the female body. The Active SL is also much lighter than other framed carriers by as much as 2.5 pounds. Deuter trims weight by reducing storage space, skipping a few features, and using less padding on the adult harness. There's no place to put a hydration reservoir, and without side water bottle pockets, you'll have to remove the carrier to take a drink. This backpack is also the only one on our list that doesn't have an included sunshade, though you can purchase one separately. As for the skimpier padding, most reviewers and customers still found this pack to be very comfortable and liked the perforated foam back panel that aids ventilation. If, in the past, you've felt like carriers or backpacks are wearing you, opt for the Active SL.
—BEST COCKPIT DESIGN—
Osprey Poco Plus
Weight: 7 lb. 14.2 oz. | Gear Capacity: 26 L | Consumer Score: 91% give it 4 stars or higher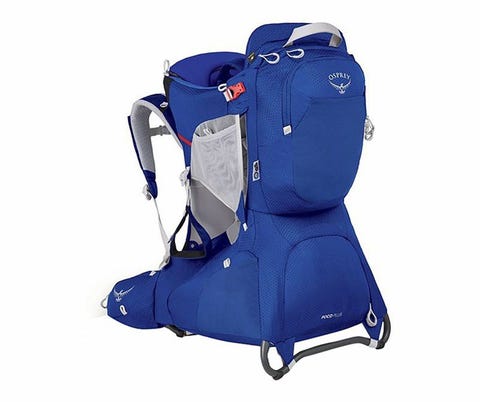 Poco PlusOSPREYbackcountry.com$329.95
Child harness buckles in the back
Highly adjustable
Good ventilation
Expensive
Kickstand must be extended to use bottom pocket
Securing a wriggling baby or toddler in a car seat, stroller, or child carrier can be a tall order. The redesigned harness in the Poco Plus will make it a little easier though. The shoulder straps buckle together behind your child, instead of in front like the previous model and other carriers. Once they're strapped in, keep them entertained by attaching toys to the two loops on either side of the large pillow, which comes off so you can wash it. Padding throughout the cockpit and mesh paneling on the sides keep your kiddo comfortable, and the massive sunshade offers full side protection from harsh rays and wind. Several points of adjustment help you zero in on fit. Change the height of the child seat or the length of the torso easily with the sliding strap mechanisms. The hip belt, which now has more padding, also lengthens to fit larger waists. We like that the Plus has a ton of room, with pockets placed just about everywhere including on one of the shoulder straps. However, the main compartment below the seat can be used only with the kickstand fully extended, which reviewers say can make the pack awkward to carry. Despite this, users report the carrier is very comfortable and appreciate the well-ventilated trampoline back panel.
—BEST STORAGE—
Kelty Journey PerfectFIT Elite
Weight: 7 lb. 4 oz. | Gear Capacity: 26 L | Consumer Score: 93% give it 4 stars or higher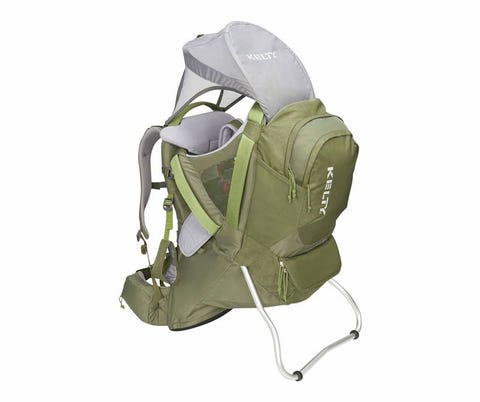 Journey PerfectFIT EliteKELTYbackcountry.com$224.96
Lots of storage—including a lined dirty pocket
Comfortable
Smaller people might find it a bit unwieldy to carry
With 26 liters of cargo space, the Journey PerfectFIT Elite ties with the Poco Plus for largest capacity. But Kelty makes some smart organizational choices that give this carrier the edge. The front pocket has internal dividers and a key clip so you don't have to go digging for small essentials. Fit a lumbar reservoir in the lower hydration pocket, or stash a bottle in the right hip belt pocket, which has a mesh base for just this purpose. Perhaps best of all is the lined bottom compartment where you can throw dirty clothes, soiled diapers, and other trash. Back home, just wipe it clean and let it dry. The Elite has other standard features as well, such as a built-in sunshade. There's plenty of adjustability, and according to reviews, the suspension system distributes weight well, making it comfortable to carry. However, people with shorter torsos might struggle to find a good fit.
—FRAMELESS—
Ergobaby 360 Cool Air Mesh
Weight: 1 lb. 8.6 oz. | Gear Capacity: None | Consumer Score: 90% give it 4 stars or higher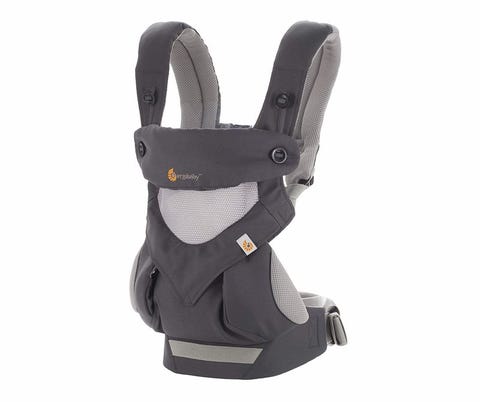 Ergobaby 360 Cool Air MeshERGOBABYamazon.com$129.98
Affordable
Lightweight
Versatile
Low weight limit
No storage
Poor ventilation
The 360 Cool Air Mesh is versatile—not only in where you can take it but also how you can use it. Off the trail, you're much more likely to reach for this frameless design than an overbuilt (read: heavier) carrier when you head out for a neighborhood walk or to run errands. Its packability makes it a nice travel option, too. With the infant insert, use it as a chest-facing carrier. Then, as your baby grows, you can adjust the leg openings so your baby can face the world, ride on your hip, or strap onto your back. The mesh paneling offers more ventilation than the cotton version Ergobaby also makes, but it doesn't come close to matching the cooling airflow found in other packs. The good news? You can throw the sweat-soaked carrier straight into the washing machine once you get home. At 45 pounds, the weight limit is a touch lower than the standard carrier meant for hiking, but not by much. It also doesn't have any pockets, so come prepared with another pack (that, preferably, someone not lugging around a small human carries).